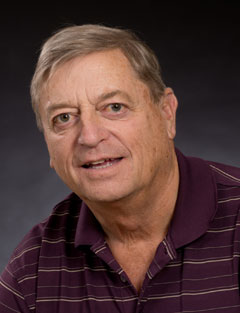 Bob Pitzel: Painter, Innovator Introduction:
Bob Pitzel, an accomplished Saskatchewan watercolour artist, depicts physical images of vanishing rural landscapes, transportation and farm implements, by using detail, colour and light and the contrast of geometric versus organic shapes, with great subtlety. Subjects include farmyards, aging machinery, vanishing railway stations, freight trains and "rolling stock," the latter being Pitzel's term for aging agricultural machinery and objects in rural settings. He also portrays outdated commercial structures, such as grain elevators and derelict country stores. Pitzel's painting conveys with astonishing and haunting intensity moments in time that often go unnoticed by passersby and in a stark realism that is quintessentially his own.
He says in his "artistic statement": "My subject matter is by necessity items and scenes which are familiar and that make a deep impression on me. I need to have an intimate knowledge of the region's people, their histories, their locales, their possessions, etc." Thus, the rural life of his home in Humboldt and its environs informs everything that he paints.
Background:
Pitzel is also known as a successful graphic artist and businessman, having opened Graphic Ad (GA), a design firm in Humboldt, in 1971, managing and prospering in it, until selling it to pursue other interests in 2004. He has more recently worked on branding and consulting for the air filtration and ventilation company, Failure Prevention Services (FPS; Watson, SK). With them, he is currently working on developing a co-generation energy project, designed to sell electrical power generation to a broad range of customers, including SaskPower. "This is FPS' current project," Pitzel adds. "New ones always start up."
Born in Humboldt in 1948 to parents of Hungarian and Dutch ancestry, Pitzel preferred drawing throughout his school years to the life of retail sales in the family's grocery store. He left the community at age 18 to study both fine and graphic art, at the Alberta College of Art in Calgary.
Pitzel says that while four years of big city life in Alberta was "good for a young person,...I came to feel that city life was not my preference for the future. I realized a smaller locale was more my style and offered just as many (and perhaps more) opportunities as a city." He met Maureen Doetzel in 1969, a teller in one of the town's banks who later became Loans' Manager. The two began a remarkable partnership in life, work and travel that has continued for nearly 50 years.
Pitzel stresses the importance of having had a strong partner in Doetzel. In the early days of GA, she never protested the 14 to 16 hour work days he invested, seven days a week, that were necessary to steer the business through its infancy (and particularly to generate enough work to keep employed the company's eventual staff of eight employees). Pitzel would often paint late at night, when youth allowed him a "second wind," before he went to bed.
In those years, Doetzel worked full-time, maintained their home and yard and was not surprised by their "not seeing much of each other." She knew from her father's life as an elevator agent and self-trained veterinarian that a new business "couldn't be built in the hours between nine and five." There was never any point in arguing, she notes, since Pitzel "would have walked away" from any dispute. Whatever the demands of his work, Doetzel recalls that he always returned to eat dinner with her and that they managed each year to take a five week holiday together in the late winter, no matter how meagre their finances. Then, they forgot their work and happily travelled the world.
Facing Adversity: Losing Family
As is the case with all prairie creatives, Pitzel's life has been no stranger to challenges. Through his early years, he received much support from his creative mother, Nell, herself a creative individual, who had studied under Saskatoon artists, such as Ernie Lindner, and whose work Pitzel regrets that he never saw during her lifetime. As an only child, Pitzel was fortunate to receive both of his parents' support for his career in art. But Pitzel found in his mother the "creative push" he needed to leave home and pursue a career in art. Such support was remarkable, during an era that offered few career prospects at all, much less in the Arts, in rural Saskatchewan. When he returned from Calgary, seeking the quieter, more reflective life of his small hometown, Pitzel unknowingly returned to the tight-knit community that would assist him and Doetzel in caring for his mother, during the final days of terminal liver cancer. She died in 1987. He was 39. Pitzel bore the difficulty of that loss by the unfailing support of partner Doetzel and the remarkable nature of the ties of his small but strong, rural community.
...And Facing Cancer:
In 2009, when cancer struck again, it was for Pitzel himself. Diagnosed in 2009 with aggressive Burkitt's Lymphoma in his small intestine, he spent four months at the Royal University Hospital in Saskatoon, in cycles of 26 days of drug-based chemotherapy, followed by four or five brief days of reprieve and a subsequent return to treatment. If his white blood cell count was safe, the schedule afforded him enough freedom to share meals out, with close friends. Buoyed by that fellowship and by his own unflagging optimism, he began to recover.
Yet following the treatment, one of the prolonged effects of the blood transfusions from his treatment was an ongoing loss blood, for which he was prescribed Prednisone. After his treatment, his doctor allowed him to stop taking the drug altogether, prior to taking his and Doetzel's annual holiday in California in 2013. Once there, Pitzel grew more and more ill, developing text book symptoms of a heart attack. This resulted in a three day stay in a California trauma hospital.
Both the mistreatment involving prednisone and the ensuing cost of $65K for Pitzel to receive care in the US created a fresh round of challenges. But using characteristic common sense when others would have planned litigation, Pitzel accepted his portion of the responsibility for having travelled that year.
A final routine medical test in 2014 resulted in the diagnosis of a cancerous polyp: surgery was required to remove of a small portion of Pitzel's large intestine. He bore the ensuing multiple colonoscopies with characteristic strength and good humour that lesser people lack.
Pitzel's Philosophy:
Pitzel has from youth had the artist's philosophy that human life will be subverted in the end by nature, as demonstrated by the millennia of history: "As the human race, we fool ourselves that we're in control. But look at global warming, and history. At the end of the day, we're only spectators." While such a perspective might leave some angry or despairing, Pitzel instead views life as a challenge to embrace every day, for its own sake, finding value not only in the rural landscapes and equipment that he paints, but also in its people.
Saskatchewan business people, at their best, he says, are "innovators": Pitzel says that historically, so few people in Saskatchewan had knowledge and experience in business or art that "we had to help ourselves out of the corners our inexperience got us into. As a result, people here generally carry out their tasks with the attitude of 'how can I make this better, easier, quicker, etc. the next time?" It is a "rare attribute" and tremendous asset to approach life and business with this attitude of continuous learning and improvement, he says.
He views adversity as best seen as new opportunities for learning. Mistakes are inevitable parts of the learning process, not to be borne too heavily. He does acknowledge, however, that the "emotional challenge" of doing one's work is more intensive for creatives who turn inner thought and feeling into their daily bread.
Pitzel's early losses have yielded him a persistent "Carpe Diem" philosophy. He recalls a friend, Eileen LeJan, who endured terminal cancer five or six years prior to his and for whom stem cell science bought her time. While Bob has so far survived, she did not. Some of her last words reminded him that "we're both in the same condition – we are both past our expiry date! Modern technology has given us extra time, so enjoy the day!" He remembers her words and makes "every day count."
Pitzel rarely offers any literal advice to young entrepreneurs, whether under or over 40, other than to "stick with" their businesses, "even when you want to give up." Careers, especially in art, take time, but "if you love it and have a passion for it, do it!" he enthuses. He also emphasizes that "nothing replaces hard work. A strong partner [like Doetzel], planning, good economic conditions, etc. help, but you are still required to 'roll up your sleeves.'"
Pitzel says that his philosophy is more "lifeaholism" than workaholism. The long hours he invested were required, because any career requires continual learning: In-person networking with prospects enabled him to view many different businesses, good and bad, which taught him the importance of continually progressing, to make "each year better than the last one."
On the question of aging, Pitzel comments: "It's not that life gets more interesting over 40, because it's all been interesting. But you understand more, as you age." Life has become simpler with age, he adds: When one reaches retirement, one needs "fewer and fewer assets every year and shouldn't still accumulate [things]." He disapproves of the rampant materialism of younger generations, "38 year olds who consume and consume and consume, and so have $400K homes, two vehicles, a motorhome; all owned by the bank!" Excess consumption, he observes, leaves people with no thought or aspirations for what will come in mid-life and in old age.
Being Mentored:
Pitzel learned early in the business to save much of his income, as his greatest mentor, Humboldt's "old time banker," Jack Davidson taught him. Both Pitzel and Doetzel shared a professional and personal relationship with Davidson. He was Doetzel's supervisor at the bank, but also a friend and mentor to Pitzel, whom he mentored to build GA and to grow the couple's long-term savings. Starting with only $500 in a single term deposit, the result of that wise saving, Pitzel notes, has been a financially comfortable retirement. In true prairie style, mentor Davidson was also a willing carpenter, "pounding nails" when the couple renovated their country home, a former CN rail station, moved from Totzke, SK.
The same enterprising self-motivation that saw Pitzel networking throughout Saskatchewan to find customers for GA, also saw him seek out Punnichy based painter, Ernest Luthi. Luthi had attended art school in Switzerland and was a pioneer of watercolour on the Prairies, painting fine art for a living at a time when no one else did. Luthi devoted his life to the art, trading many of his remarkable (now highly valuable) landscape paintings for his day to day survival. Pitzel sought out Luthi and received the elder man's critique of his work, learning technique and strategy for his own watercolour painting.
Mentoring Others:
Pitzel says he has been significantly mentored by others, as well. One particular case began through a painters' group in the 1970s, who met every few months to honestly critique each others' work. When a show they had prepared for was unsuccessful due to poor management by a Regina gallery, they improvised to create Humboldt's first ever art show, "Long Shadows, in November 1979," which "blew [their] most optimistic expectations out of the water." The phenomenal success reflected the community's interest and the quality of the exhibit, which continued with other participants for the next 20 years. In addition to benefiting from peers' mentoring and building a network for his art, Pitzel met and encouraged many young artists who met him and his peers after attending this show.
He also mentored many youth at GA, between its inception in 1971 and sale in 2004. He recalls laughingly the "NHL Draft" work he orchestrated, signing three adolescent brothers in Humboldt to the shop. They learned the structure, order and organization of the work at GA, but two of them also took Pitzel's advice to leave the province for a time, to broaden their horizons. All ended up with professional careers on the Prairies.
Pitzel says that "these people later said that working at GA gave them the tools that helped them become successful with what they did and to get on with their careers."
He creates a fine example for protégés and friends: he laughs to recall the words of a 21year old cancer patient whom he befriended in hospital in 2009. The younger man had been encouraged by Pitzel's courage, so that the fellow told his mother: "If that old guy can make it through his treatment, so can I!"
Pitzel is known for his bigheartedness, for graciously speaking with even the most graceless or contrary new entrepreneur. He has informally and formally mentored dozens of new entrepreneurs through the Raj Manek Business Mentorship Program (RMMP), since 1998. He views this not as generosity so much as "payback" for those like Davidson, Luthi and many others, who earlier mentored him in business or fine art.
The Painting Process:
Pitzel's visual way of perceiving the world is evident in his artistic space and process. His studio, located adjacent to his house, is an immaculate, bright and orderly space, designed to maximize incoming natural light.
Pitzel works from photos or slides, often taking as many as 50 to 75 per project, to recreate the three-dimensional vision that he remembers from first sight. Using photography "as a reference tool allows [him] to record potential ideas, scenes and details" to use later. He writes in his artist's "biography" that "changes in composition, tone, mood, etc. can, and often do, take place between the original photographic reference and subsequent sketches, studies, and major paintings." His creative process of "incorporating sketches and studies prior to executing a major work" often brings "changes in composition, lighting, colour and in [some] cases, elimination of irrelevant elements." He uses a very specific, "deeply personal" palette of colours to evoke "the colours of the prairies" that he loves and "the variations created by the seasons."
Pitzel writes about his work that "In general, the usual settings for my work are nature's, with elements such as buildings and implements used by man in an effort to tame, control, or simply co-exist with Mother Nature. And the effect that seasons have on the world of those who live with or through them."
He explains that he has felt compelled to work in watercolour, because, when starting out, he needed to learn its discipline to properly plan and structure his painting. Prior to that, when using acryllics, he was unable to sufficiently think through his strategy and technique, which resulted alterations that made "messes" out of his work.
He writes further that "during the pre-painting through and planning process, I begin to emphasize some elements of a proposed work while suppressing others, always being intensely aware of the light as well as the contrasts in the composition. At this [early] stage I focus on eliminating extraneous subject matter and giving more attention to the mood of the piece. I feel there are no shortcuts in the planning process, since once the painting itself is started, there is no opportunity for 'going back.'"
Because watercolour cannot be altered, Pitzel observes that it requires an "Oriental" kind of nature of "80% contemplation and 20% execution."
Pitzel and Doetzel continue to time their annual holiday to California in the last weeks of winter, so as to provide relief when nature's light has faded and winter darkness still dominates.
Formal Exhibits:
Pitzel's works have been exhibited throughout Saskatchewan and Canada and have been purchased by individuals and corporations throughout Canada, the US and Europe.
After the success of creating "Long Shadows" in 1979 in Humboldt, Pitzel has participated in a wide number and type of exhibits, with an extensive listing appearing on his website at www.bpitzel.com.
Among his most influential and accomplished exhibits include the "International Artists in Watercolour" competition, where he was named one of top 25 Canadian entries (August, 1981).
Nationally, his work appeared at the influential Canadian Society of Painters in Watercolour Juried Show in 2008 (Toronto) and in 2009 (Calgary).
Provincially, he exhibited works in Watrous in April 2005, at the Organization of Saskatchewan Arts' Councils (OSAC) Development Weekend and Provincial Exhibition.
Most recently, in the 2015 Prince Albert Winter Festival Juried Show, one of two of Pitzel's pieces won the watercolour award at the city's Mann Gallery.
He regularly has paintings on display, including 10 that will be on tour throughout the province for the next two years, in a two man OSAC exhibition with Bryce Ericksen.
"Did you Say 'Retirement?'"
Pitzel jokes that he in fact retired in 1971 when he opened GA, because he has since woken most mornings, happy "to do what I love doing." Doetzel may describe his perspective best: "Bob never lets the moss grow under his feet. He keeps life exciting."
Elizabeth Shih is a freelance writer and editor, based in Saskatoon. You can read more about her services at www.elizabethshih.com